If you lose your job in New York, you can register for getting unemployment benefits to obtain support while you look for a new one. If you wonder what unemployment benefits are, look ahead. This article contains all of the essential information you need to know about unemployment benefits and how to get them in New York.
What Are the Unemployment Benefits?
Unemployment benefits, known as unemployment insurance or unemployment payment, is a program between the state and federal authorities to provide financial assistance to people who lost their jobs.
The amount of unemployment compensation (which may cover only the basics or fully compensate the unemployment time) and the duration of the payments depend on the state's jurisdiction and the status of the person who applied for getting the benefit. The duration of collecting the benefits can range from several months to three years. Be aware that to take advantage of these benefits, you should be registered as unemployed.
Unemployment Benefits in NYC
Employees who are out of work for no fault of their own in New York, like in every other state, may be eligible for unemployment compensation. However, qualifying regulations, past earnings requirements, benefit levels, and other specifics vary by state. If you want to get these benefits in New York you should know that the New York State Department of Labor supervises the state's unemployment compensation and decides whether you are eligible for getting the benefits and how much you can get.
The payments are available for up to 26 weeks. If these periods expire and you still are jobless, you can be eligible for Emergency Unemployment Compensation (EUC) or other programs available.
The Eligibility Requirements for Getting NYC Unemployment Benefits
As mentioned above, the eligibility requirements may vary from state to state. For example, in New York, the benefits are dependent on your work history and salary. Though you will know whether you are eligible for getting the benefits only after filing a claim to collect benefits, the essential requirements are as follows:
You've Lost Your Job Through No Fault of Your Own as Defined by NYC Law
The decisive requirement for collecting unemployment is a job loss through no fault of their own.
Thus, you may be eligible to get the payments if the company lays you off because of:
RIC (reduction-in-force)
Economic reasons
Failure to meet the employer's productivity standards (if you are a poor fit for the job, you may still be able to collect unemployment)
However, you won't be eligible to get the benefits if you:
Are fired because of committing a felony or conviction of committing it
Are dismissed for wrongdoing, including violating corporate standards or acting irresponsibly against the employer's interests
You quit the job without furnishing a significant cause for it
You are Available for Work and are Looking for It
The availability of work and the active search for it is another eligibility requirement to get unemployment benefits. Your job search activities must be documented in writing, as you may be required to furnish these records when you are called in for a personal interview by a state agency. Be aware that you can't reject a job offer if it corresponds to your education and experience, irrespective of your salary expectations.
Your Previous Work and Salary Meets the Minimum Requirements
In New York, as in other states, to be eligible for collecting unemployment, your employment history and wage were considered on a "base period" equal to four of the five complete calendar quarters before you submitted your application for benefits. However, people who cannot address the earnings requirements in a "base period" in New York can bank on an alternate base period. The alternate base period considers more recent employment. Thus, during the base period:
Your earnings must be at least $2,700 in the highest-paid quarter
You must have worked at least six months
Applying for Unemployment Benefits in NYC
In New York, the most straightforward approach to making a new unemployment insurance claim is through the state labor department's online site. The day of the week on which you apply is determined by the first letter of your last name, and you'll need an NY.gov ID to access the site. You can also apply for unemployment benefits via phone. Whether you do it online or via phone, you will need to provide a social security number, ZIP code, Driver's license, Copies of forms SF8 and SF50, and names and addresses of the companies you have worked for the last 18 months.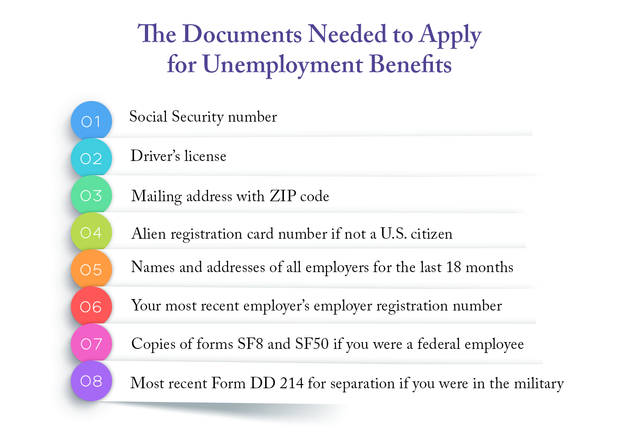 Please keep in mind that submitting without all of this information may cause your initial payment to be delayed.
Summing up
Unemployment compensation is a significant component of state welfare programs, as the latter provides the needed safety to households to safeguard them from poverty. Thus, these payments help people who lost their jobs to get more time to look for another one that matches their skills, educational background, and expectations.
On the other hand, people getting high unemployment benefits that fully compensate for their previous salary for a long may lose the motivation to find another job. This may have a negative impact on total unemployment. That's why the authoritative bodies providing unemployment benefits take measures (checking the claimant's job search records) to keep the claimants active in the job search.