Submitting a credit request and knowing that you will qualify for a payday loan may appear fantastic, but is it really possible? Nowadays, many online lenders offer quick and straightforward application procedures, but things can be more complex in practice, and you may struggle to qualify. This doesn't, however, imply that you should become anxious.
Cash advances with no denial are promoted as requiring no particular qualifications other than a credit request. In most cases, you won't be required to provide any documents to obtain the loan. Nevertheless, if you read the stuff on such websites more carefully, you will discover that this is not entirely true as your request may be refused. As a result, no-denial loans don't truly exist because there are a variety of reasons why you might be unable to qualify, such as being jobless, having a bad credit score, or having a small monthly paycheck. Furthermore, payday advances are not accessible in every state. This implies that if you reside in a state like Arizona, Maryland, or New York, you would be unable to obtain financing, regardless of your wonderful monthly paycheck and perfect credit.
What Are Payday Loans and How Do They Work?
If payday loans are legal in your state, you may opt for one online or at a storefront. Many lenders do not require a credit check and it's appealing to borrowers who don't have good credit yet.
The process is simple: once you complete your credit request with a lender, you submit a post-dated check for the principal amount plus fees, ensuring on-time settlement of the debt. However, if you cannot pay off the loan on its maturity date, a lender may offer to roll over your payment for another week or month, but it will likely incur extra fees.
Risks Associated with Payday Loans
Initially, payday lenders focus on vulnerable borrowers: those who seek quick cash but cannot qualify for traditional financing options because of bad credit. Many borrowers who don't require a large sum of money choose cash advances since lenders transfer cash into your bank account and perform no credit checks.
The repayment periods, financing costs, and amounts are all regulated by most states. But on the other hand, predatory lenders are all over the place, to the point that some jurisdictions have outlawed payday lending entirely.
Interest rates on paycheck advances can reach three-digit numbers even with laws in place. Although personal installment tools offer relatively lower interest rates, you won't likely have a chance to qualify with a bad credit history.
The shortness of payback time is a major risk with payday loans. Traditional personal financing allows you to repay your debt over a long period through equated monthly installments. Meanwhile, payday advances have a repayment period of a couple of weeks. Unfortunately, many borrowers don't have the finances to return the debt within this time limit, and in some situations, they wind up borrowing more to cover the additional financial costs.
Repaying a Payday Loan
When taking out money from a cash lender, you establish a single repayment date. You'll usually pay back your debt using a postdated check, which will include the principal amount plus fees and interest. The borrowed amount will be due within two to four weeks after you get the cash, generally on your next paycheck. In contrast to personal loans, which involve monthly installments for a specified length of time, a paycheck advance is payable in a one-time payment.
Legal Status of Payday Lending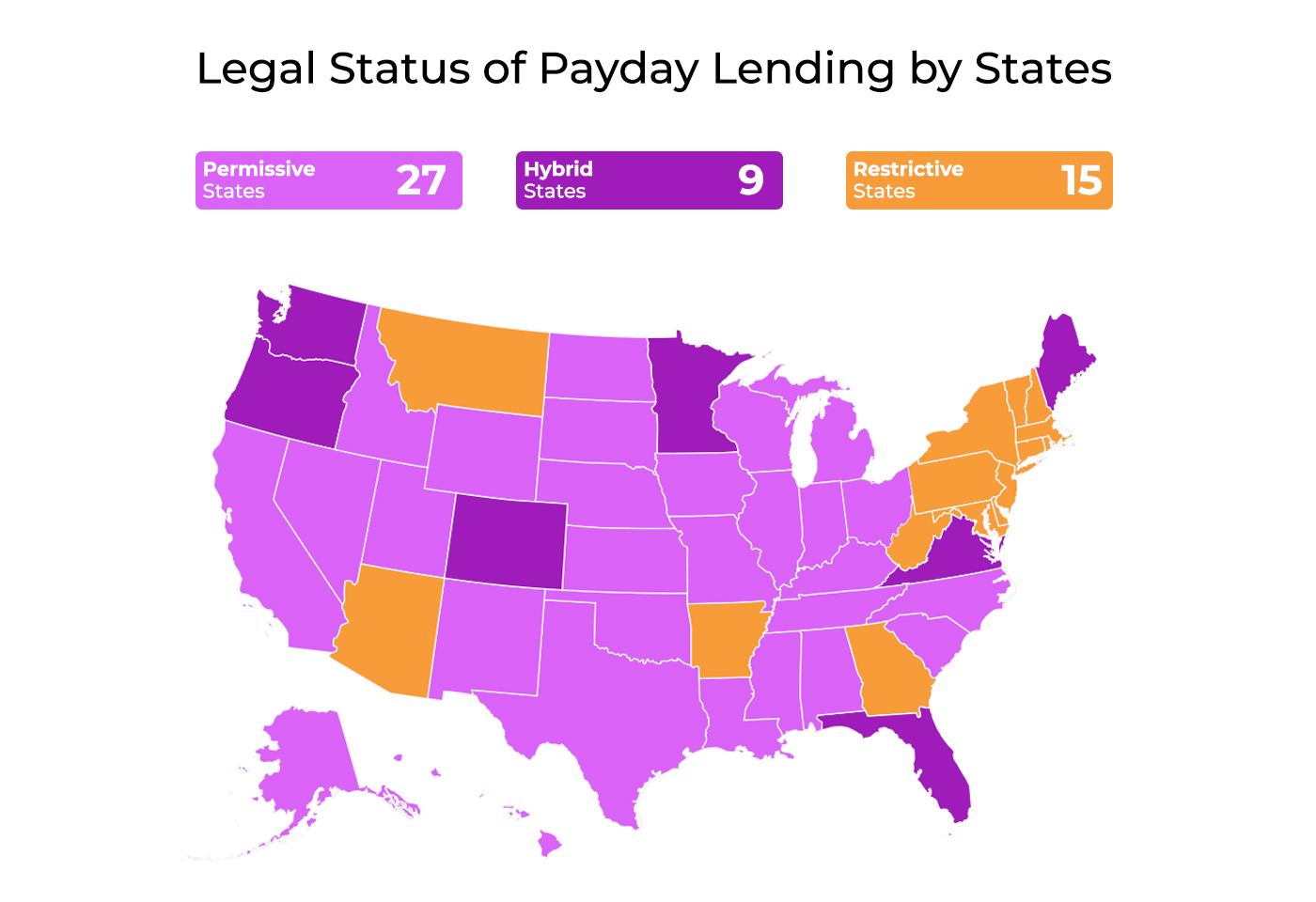 In thirty-two states, payday lending is permitted by state legislation or regulations. With acceptable small credit rate restrictions or other bans, fifteen states and the District of Columbia protect their borrowers against non-legitimate predatory lending. Three states established lower rate limits or longer repayment durations for somewhat less costly advances.
Be informed that online lenders are also subject to state-federal regulation where a borrower gets his cash. For further information, see the Legal Status of Payday Loans by State.
Benefits of Payday Lending
Easy Access: Payday loans are simple and quick to get, which is a major benefit for many consumers. Unlike traditional tools, you may fill out a credit request online in a matter of minutes and have money in your bank account as soon as the next business day. This is precisely what many borrowers are seeking, as these loans are frequently used to cover unforeseen expenses such as auto or house repairs. Furthermore, borrowers have a wide variety of options. Many lenders now offer quick cash advances, making this type of borrowing even more accessible.
Requirements: Payday loans appeal to many bad credit customers since the eligibility requirements are generally less stringent than for other financing tools. Although they don't match the minimum requirements of banks and other high-street companies, borrowers with bad credit records and smaller incomes are frequently qualified for online loans.
Bad Credit is OK: As previously stated, borrowers with bad or no credit are more likely to qualify for cash financing than for traditional alternatives such as credit cards or personal loans. This is because alternative lenders are more concerned about your ability to pay off debt rather than your credit score.
Unsecured Nature: Most traditional lenders demand that customers pledge their vehicle, home, or other significant assets as collateral if they cannot pay off debts. On the other hand, payday lenders provide unsecured debt, meaning that you don't have to put up collateral, consequently holding the risk of losing it in case of credit default.
Drawbacks
Predatory Reputation: Some borrowers still consider cash loans predatory since they target those with little income and low scores. While many other lenders do this as well, payday lenders gained a negative reputation for aggressively chasing unpaid loans in the past. Although the market is more regulated these days than it has ever been, it is still necessary to investigate your choices before submitting your request.
Debt Spiral: If you don't pay back a cash loan on time, you may find yourself in a debt trap. It's easy to understand how this may lead to a very tough scenario if you find yourself needing to get new credit to settle the old one. Unfortunately, payday tools have relatively high-interest rates, putting borrowers at a higher risk of sliding into debt.
Questionable Collection Practices: As previously said, cash advance lenders have a negative reputation due to harsh collection practices in the past. Some involved in a suspicious practice, such as sending abusive messages to debtors, frighten them into repaying their loans without fully comprehending their choices. Fortunately, the Consumer Financial Protection Bureau now has a tight grip over the sector, but these activities have tarnished its reputation.